HAMILTON, ON (June 6, 2023) – UniglassPlus and VitroPlus, industry leaders in automotive glass repair and replacement, raised over $80,000 for Breakfast Club of Canada during their spring auto glass program.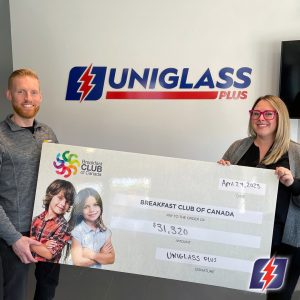 The annual fundraiser began in the middle of February and ran through the middle of April. This year's promotion allowed UniglassPlus and VitroPlus owners from across the country to donate 12 nutritious breakfasts for every windshield repair and replacement performed in their facilities. This donation number is doubled from last year's push. After raising nearly $40,000 with this Spring fundraiser in 2022, the network of owners wanted to dream bigger this year and more than double the amount of money raised with a total sum of $84,818. This charitable donation equates to nearly 170,000 breakfasts that will give children across Canada the energy to learn.
"I am elated to see this fundraiser grow year over year and to witness the superb level of commitment from our owners and community," said Maurice Filion, president, Uniban. "We are honored to work closely with Breakfast Club of Canada and support their mission of nourishing children to ensure they reach their full potential."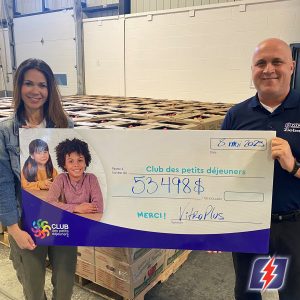 In Canada, 1 in 3 children is at risk of going to school on an empty stomach. Research shows that a nutritious breakfast not only energizes the body and brain for learning but also helps improve eating quality, physical activity and self-esteem.
"Our organization is grateful for the significant support that UniglassPlus, VitroPlus, and their respective communities have provided us," shared Natalie Charette, Director, Major Gifts & Planned Giving, Breakfast Club of Canada. "This act of generosity will continue to fuel our ultimate goal of providing a breakfast for every child, every day."
UniglassPlus and VitroPlus are excited to continue supporting Breakfast Club of Canada with a similar initiative this fall. From Friday, September 1 through Tuesday, October 31, every rust protect treatment will benefit Breakfast Club of Canada by providing eight breakfasts to children.
Visit UniglassPlus.com or VitroPlus.com, to find a location near you.
###
About Uniban Canada
Uniban Canada is a leading technology-based provider of automotive glass repair, replacement and ADAS calibration services. Through its leading brands like UniglassPlus, VitroPlus, Go! Glass and Docteur du Pare-Brise, it serves vehicle owners, fleets and insurance carriers. Uniban Canada also offers technology-enabled glass claims management services for insurance carriers. Uniban Canada is a part of the Driven Brands family of automotive aftermarket companies.
About Driven Brands
Driven Brands™, headquartered in Charlotte, NC, is the largest automotive services company in North America, providing a range of consumer and commercial automotive needs, including paint, collision, glass, vehicle repair, oil change, maintenance and car wash. Driven Brands is the parent company of some of North America's leading automotive service businesses including Take 5 Oil Change®, Take 5 Car Wash®, Meineke Car Care Centers®, Maaco®, 1-800-Radiator & A/C®, Auto Glass Now®, and CARSTAR®. Driven Brands has more than 4,800 locations across 14 countries, and services over 70 million vehicles annually. Driven Brands' network generates approximately $2.1 billion in annual revenue from more than $5.8 billion in system-wide sales.
About Breakfast Club of Canada
Since 1994, Breakfast Club of Canada has been working with partners from all sectors to help children access a nutritious breakfast and reach their full potential. Accredited by Imagine Canada for its effective governance and recognized by Aliments du Québec for its promotion of local food products, the Club helps reach more than 580 000 children in over 3,500 school nutrition programs across the country. The ultimate goal: breakfast for every child, every day. To learn more, visit breakfastclubcanada.org or follow us on Facebook, Instagram, Twitter and LinkedIn.