For avid cyclists, the bicycle is the perfect combination of transportation and sport…
Until it comes time to transport your bike by car. To avoid the complications that come with trying to fit a bike into the trunk of a sedan, many people choose to invest in a bike rack for their vehicle.
We want to provide you with a brief guide on how to go about choosing the best bike rack for your car and the factors you should take into consideration when purchasing and using a bike rack.
HOW MUCH DOES A BIKE RACK COST?
BIKES RACKS CAN RANGE FROM AS LOW AS $150 TO A FEW THOUSAND DOLLARS. YOU SHOULD ALSO CONSIDER HOW YOU'LL BE USING YOUR BIKE RACK ON A DAILY, MONTHLY, OR EVEN YEARLY BASIS.
If you take a biking trip on rare occasions every few months and you're the only person who needs to transport their bike, a rack that can hold a single bicycle would be ideal, especially if it can be easily uninstalled afterwards.
However, if you take the whole family cycling every weekend, you are more likely to invest in a rack that can hold everyone's bike.
WHERE SHOULD I INSTALL MY BIKE RACK?
WHERE YOU INSTALL YOUR BIKE RACK DEPENDS ON A FEW VARIABLES, INCLUDING:
-What kind of car you drive (vehicle height and style, such as a hatchback, sedan, SUV or pickup truck)
-How many bikes you need to transport
-How much you want to pay
-How easily you want to be able to remove the bike rack
THE 4 MOST COMMON TYPES OF BIKE RACKS ON THE MARKET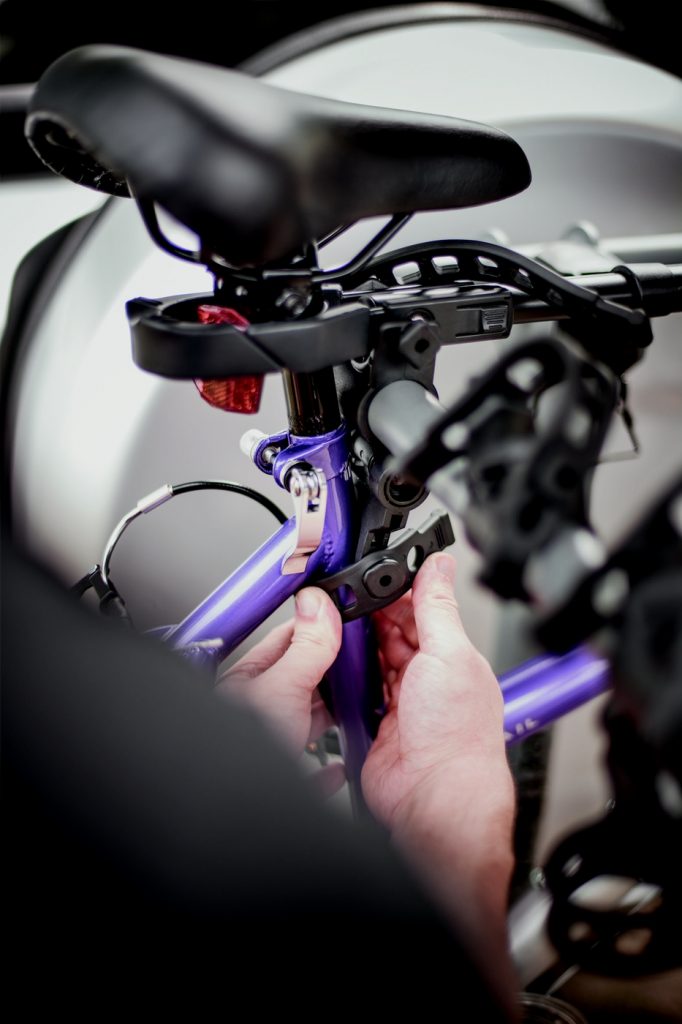 The most popular types of bike racks include hitch racks, roof racks, trunk-mounted racks and tailgate pads.
Trunk-mounted racks are the most affordable option and can be installed or removed easily. Their quick installation is perfect for casual cyclists, however, they can't fit all bikes and require the bicycle to make contact with your vehicle.
That means you risk getting scratches to your car's paint. You also won't be able to open your trunk while the rack is holding your bike. You'll need to make sure that your license plate number is visible once the bike is on the rack.
Hitch racks are connected directly to the trailer or trailer hitch on your car when installed. They are regarded as the sturdiest of the 4 types of bicycle racks. Although your bike will be hanging behind your vehicle,  a hitch rack doesn't require any part of the bike to be touching your car. In fact, they can even be swivelled to free up your trunk, folded away or detached completely when not in use.  They can also securely hold multiple bikes at once.
Roof racks are mounted to the roof of your car. This kind of rack is ideal for sedans and sport wagons. Roof racks can either be installed permanently using bolts or temporarily using suction cups and harnesses.
One thing you'll need to consider is the act of loading and unloading your bike. This can be challenging if you're not very tall or have difficulty lifting heavy objects. Mounting a bike becomes an even bigger issue if you have a tall vehicle such as an SUV.
Finally, there are tailgate pads, which are for pickup truck owners. The pad is attached to the tailgate while it's up. The pad has nylon straps that can carry up to 7 bikes, which are held upright, much like with a roof rack. The pad will also protect the truck's paint from scratches.
HOW MUCH WEIGHT CAN A BIKE RACK HOLD?
THIS, AGAIN DEPENDS ON THE BIKE RACK YOU ARE CONSIDERING BUYING.
Your basic trunk rack will hold up to 40 lbs (the average bicycle weighs around 20 lbs) or 70 lbs if it's designed for 2 bikes.
Roof racks can support up to 200 lbs but you will need to keep an eye on your roof capacity.If the roof is only rated for 100 lbs, you'll need to keep your total weight below 100 lbs, even if the sport rack or bike rack is rated at 200 lbs.
Larger hitch racks can support up to 4 bikes for a total weight of 140 lbs.
HOW TO USE A BIKE RACK: THE DO'S AND DON'TS OF TRANSPORTING YOUR BICYCLE
-DO verify that your bike fits on the rack before purchasing one, especially if you own a mountain bike or a fatbike with larger wheels. Make sure the bike frame fits when mounted and locks securely in place.
-DO ensure that the rack is properly secured before driving off. Having a 30 lbs bicycle fall off while on the highway is not a good way to start a trip.
-DO NOT leave your bikes unattended for long periods of time or they might get stolen.
-DO put the rack away or detach it when it's not in use. Forgetting that you left the bar out while parallel parking can lead to a costly fender bender.
-DO make a note of the change in width or height to your car when the bikes are loaded. Trying to squeeze into a tight parking spot or entering a garage with a low ceiling could spell disaster.
HIT THE ROAD!
No matter if you're training for a triathlon every weekend or you enjoy taking the occasional biking trip, there's a bike rack for everyone.
The key is to figure out how often you'll be using the bicycle rack and find a price you'll be comfortable paying. If you're an occasional cyclist, an economical option like a trunk rack will most likely work for you. However, if you've put a few thousand dollars into your bicycle, you may want to pay a bit more to transport your investment without worry.
Whatever your scenario, talk to an expert to see what will work best for your cycling needs. Then, get out there and ride like the wind!